4 Best Memphis Riverfront Neighborhoods: Waterfront Real Estate With Mississippi River Views
Posted by John Quinn on Wednesday, November 16, 2022 at 1:08:49 PM
By John Quinn / November 16, 2022
Comment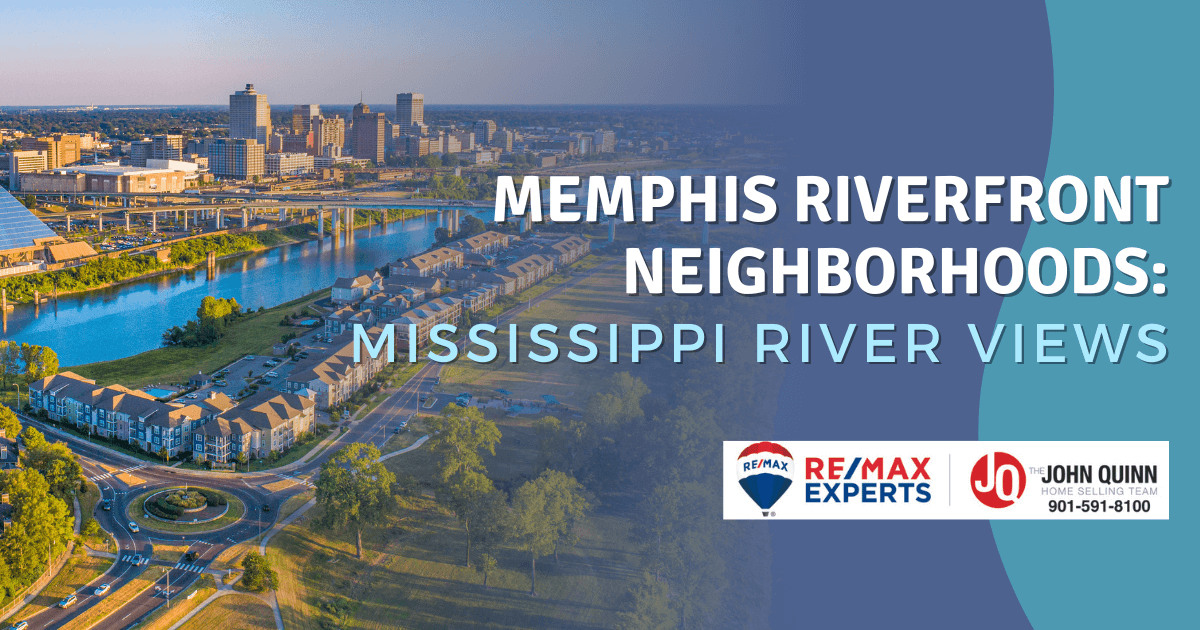 The city of Memphis may be known as the birthplace of Rock and Roll and the Blues, but it's also a great place to relax and watch the Mississippi River flow. Several communities offer homeowners a view of the water that is second to none. Here's a closer look at what makes these neighborhoods with the best waterfront views in Memphis unique, along with the housing opportunities available in each one.
Downtown Memphis
The boundaries of downtown Memphis are I-40 in the north, East Georgia Avenue in the south, Riverside Drive and the Mississippi River in the west, and South Danny Thomas Boulevard in the east. Residents will find the best waterfront views along Riverside Drive. Gated community homes with waterfront views range from $1.5 million to $2.5 million, and condos with views of the river typically start in the mid-$200s and go up from there.
Downtown Memphis is responsible for more blues, rock and roll, and jazz hits than perhaps any other city in America. Beale Street Entertainment District is an iconic stretch of downtown that millions of people visit annually. Some of the hottest attractions include the world-famous Orpheum Theatre and B.B. King's Blues Club. The Memphis Music Hall of Fame is also in this district, and live concerts happen year-round.
Downtown Memphis Amenities
Memphis Rock 'n' Soul Museum
Halloran Centre for Performing Arts & Education
Blues Hall of Fame
South Main Historic Art District
National Civil Rights Museum
Mud Island River Park
Uptown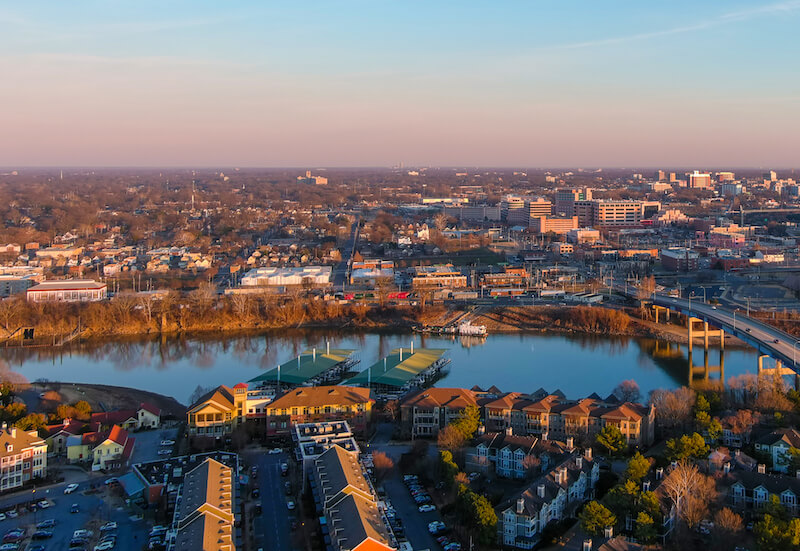 The Wolf River Harbor borders the Uptown neighborhood in Memphis to the west and North Manassas Street to the east. The north and south boundaries are Chelsea Avenue and Poplar Street, respectively. Some low-rise condos on the neighborhood's west side offer water views, but most of the housing here is single-family homes. There are even some vacant lots for sale occasionally, which gives buyers the opportunity to build new construction homes. Homes for sale in Uptown can range in price from around $200,000 to the mid-$400s for properties closer to the harbor.
The world-famous St. Jude's Children's Research Hospital is centrally located in Uptown. The Tennessee College of Applied Technology is also here, offering technical training programs in medical, automotive, avionics, electronics, and many other fields of study. Uptown is also home to the Cannon Center for the Performing Arts, where the Memphis Symphony Orchestra rehearses and performs.
Uptown Amenities
Memphis Convention Center
Bass Pro Shops at the Pyramid
Miss Girlee Soul Food Restaurant
Memphis Main Street Trolley
Harbor Town
Harbor Town represents some of the very best waterfront living available in Memphis. The neighborhood is entirely on Mud Island, situated between the Wolf River Harbor on the east and the Mississippi River on the west. The island has a population of fewer than 2,000 residents. Most of the housing is single-family, and many waterfront homes and a few low-rise condos are here. Home prices in Harbor Town typically range from the mid-$300s to around $1 million.
A gravel-surfaced walking path surrounds the central part of Harbor Town and wanders through eight small parks, each with unique features such as ponds, birdhouses, trees, and more. Additionally, The Fish Memphis Guide Service has a 26-foot catfish boat running fishing charters in the area.
Mud Island Park is an ample outdoor green space that occupies most of the island's southern end. Dogs on leashes are welcome, and there are many fun things to do outside here.
Harbor Town Amenities
Mud Island Dog Park
Wolf River Harbor Boat Ramp
Greenbelt Park
Fat Charlie's Speakeasy
Memphis Yacht Club
Mississippi River Museum
South Bluffs
South Bluffs is a relatively small neighborhood just south of downtown, but it provides some of the best waterfront views in the whole city. The neighborhood's western boundary is Riverside Drive, and it's bordered on the east by Tennessee Street. The southern boundary of South Bluffs is West Georgia Avenue, and the neighborhood's north end stops at Butler Park.
This area of town used to be a 25-acre railroad station and switching yard. Redevelopment began in 1989 as a gated neighborhood. Gated properties make up almost all the homes in South Bluffs, besides a few apartments and condos.
Driving along Riverside Drive allows motorists to catch a glimpse of some gorgeous homes at the top of the bluffs above the Mississippi flood zone. Homes and condos start in the mid-$300s, with properties on the cliffs overlooking the Mississippi costing as much as $2.5 million.
This neighborhood is excellent for running and walking because it's right across the street from the Memphis Riverwalk. There are some fantastic Southern restaurants across Tennessee Street from South Bluffs, and one local favorite is By the Brewery, which offers gourmet fare for breakfast and lunch.
South Bluffs Amenities
Big River Crossing
Memphis Central Station
Memphis Farmer's Market
Fannie Lou's Gourmet Chicken & Waffles
Ashburn-Coppock Park
Discover Great Waterfront Living in Memphis
Memphis may be well-known for its music scene, but locals know there is something extraordinary about the Mississippi River. Living so close to an iconic body of water makes Memphis a great place to live, work, and play.