8 Best Suburbs of Memphis: Where to Live in Cities Near Memphis
Posted by John Quinn on Monday, November 14, 2022 at 12:55:46 PM
By John Quinn / November 14, 2022
Comment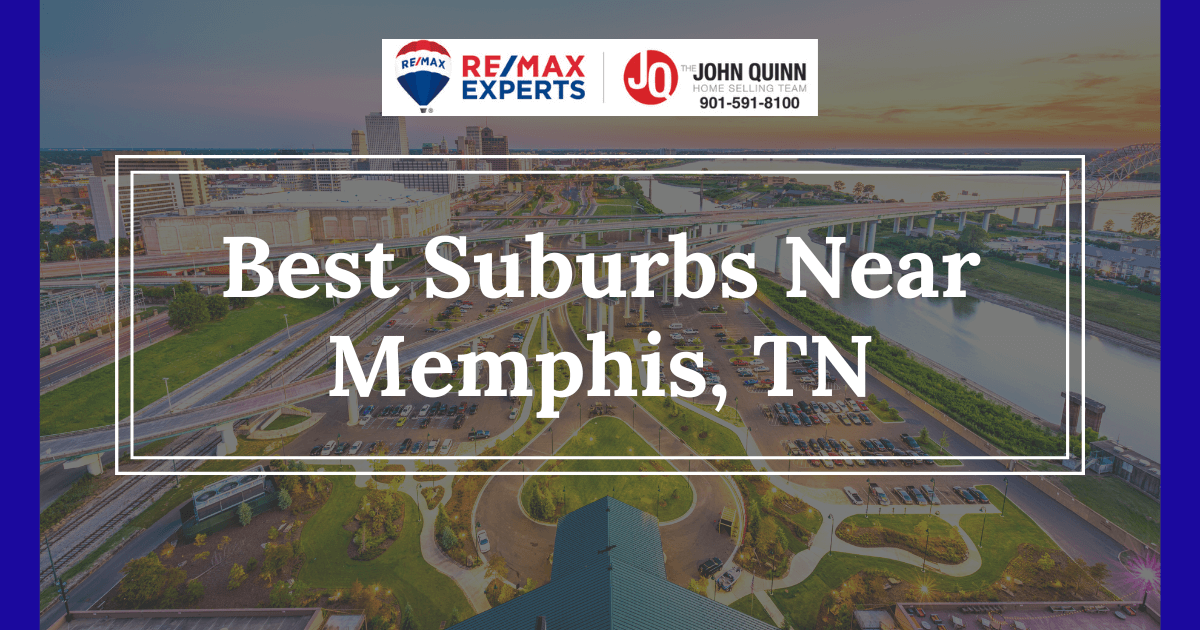 Set high on a bluff above the Mississippi River, the city of Memphis, TN, is one of the south's most unique and vibrant cities. Famous for its blues and barbecue, Memphis offers a charming mix of old south history and a bustling modern economy. For those thinking of moving to Memphis or the surrounding area, numerous suburbs have popped up around the city, each providing its benefits. We're breaking down eight of the best suburbs near Memphis and what they have to offer.
Cordova
Cordova's delightful, rustic appeal can be summed up in the community's motto: "farms, flowers, and fellowship." The loosely defined neighborhood stretches between the Wolf River and Interstate 40, west of Pisgah Road. Once an agricultural community, the growth of Memphis now places it just at the city's border, with parts of the community annexed by the Memphis. Residents are just about 15 miles from downtown, an easy drive on Interstate 40 and other prominent local roads.
Much of the area is residential, with retail and dining options lining the main drag, Germantown Parkway. Cordova is also close to Shelby Farms Park, one of the country's largest urban green spaces filled with hiking/biking trails, playgrounds, spots for fishing and water recreation, a disc golf course, zip lines, and much more. It even has its own resident bison herd! Residents can easily access outdoor activities in Memphis via Interstate 40.
Housing in Cordova is almost exclusively made up of single-family detached homes with a few small condo buildings and townhouse developments. More modestly sized homes in Cordova with two to three bedrooms can be found as low as the mid-$100,000s, though most properties sell from the $200,000s to the low $400,000s. However, the area's most spacious, finely finished homes can reach the $800,000s.
Cordova Amenities
Convenient to Interstate 40
Close to Shelby Farms Park
Numerous restaurants/retail along Germantown Parkway
Cordova Skating Center
Arlington
Just over 20 miles northeast of the city, Arlington offers another charming and convenient Memphis suburb for would-be homebuyers. It stretches from the Loosahatchie River north to US Highway 64 in the south, east of Chambers Chapel Road. This location is one of its biggest advantages. Arlington residents will find getting around the Memphis area effortless thanks to their proximity to Interstates 40 and 269, US Highways 64 and 79, and State Route 385.
Closer to home, Arlington offers a quaint downtown full of local businesses set in historic buildings, like longtime community staple S.Y. Wilson and Co., which sells clothing and active gear. Locals can also chow down at the city's oldest restaurant, Vinegar Jim's, located nearby. The town also hosts regular local events, particularly around Depot Square.
Arlington homebuyers will find many single-family detached homes built in the past two or three decades. Homes for sale in Arlington start in the mid-$200,000s for modestly sized or older single-story properties, though most homes are found from the low $300,000s to the high $600,000s. Many Arlington homes are part of HOAs, providing amenities ranging from clubhouses to pools to neighborhood parks.
Arlington Amenities
Close to numerous major roads and highways
Regular community events
Arlington Sports Complex
Hughes-College Hill Park
Lakeland
Just to the west of Arlington is another top suburb for those looking in the Memphis area: Lakeland. Less than 20 miles from downtown Memphis, the community earns its name from the many bodies of water that dot the area, most notably Garner Lake.
One of Lakeland's top attractions is International Harvester Managerial Park, a beautiful public green space as spacious as its name is long. With trails, fishing areas, picnic sites, and a theater spread over 65 acres, it's a perfect space for residents to enjoy the beautiful western Tennessee scenery. The community is also home to the Delta Blues Winery, offering a great spot to enjoy a local beverage or host an event.
Those looking for a home in Lakeland will find mostly single-family detached houses, with a few condo/townhouse-style properties on the area's southern end. The latter can be found for less than $200,000 and typically include two or three bedrooms spread over more than 1,300 square feet of living space. Single-family homes for sale in Lakeland start in the mid-$200,000s but can reach close to a million in some cases. Most sell from the mid-$300,000s to the mid-$600,000s.
Lakeland Amenities
Close to numerous major roads and highways
International Harvester Managerial Park
Lakeland Golf Club
Lakeland Lake/Garner Lake
No city property taxes
Collierville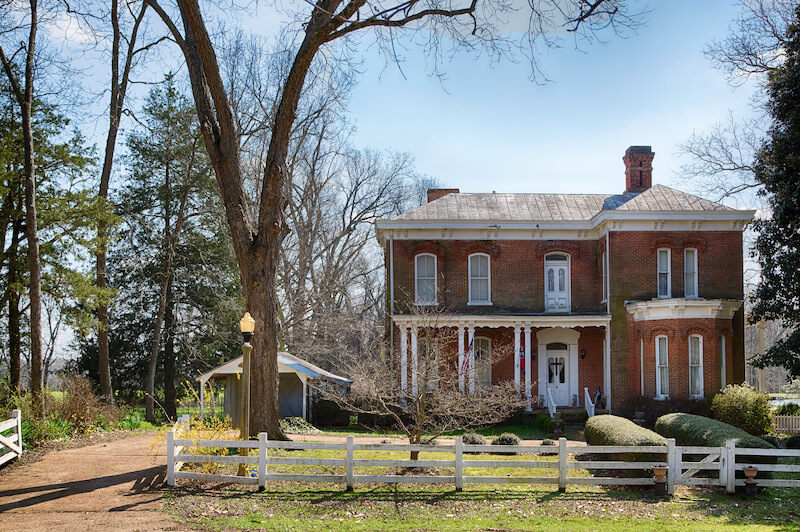 Collierville offers Memphis-area residents a charming combination of small-town appeal, history, and excellent housing. Located roughly 30 miles southeast of Memphis near the Mississippi border, it was heavily damaged in two Civil War battles but grew into a thriving small community when it was rebuilt post-war. Recently, it's been awarded "America's Best Main Street." Collierville residents can enjoy this charming area, marked by historic buildings and a picturesque town square.
This area is packed with community-favorite restaurants like the old-school Silver Caboose Restaurant & Soda Fountain, more than a dozen local shops, and Town Square Park. Other restaurants, shops, and everyday services are located close by along West Poplar Avenue, one of the city's main thoroughfares, and at the Carriage Cross shopping center.
Single-family detached homes dominate the housing stock of Collierville real estate, typically including three to five bedrooms, but vast differences can be found in homes' style, size, and age. These include everything from modest one-story houses to sprawling, mansion-like new-construction homes. This diversity in homes also produces a similarly wide range in prices, with some properties selling for less than $200,000 while Collierville luxury homes for sale list for more than $1.5 million.
Collierville Amenities
Vibrant, walkable downtown
Numerous parks
Baptist Memorial Hospital-Collierville
Carriage Crossing shopping center
Ridgeway Country Club
Bartlett
One of the closest suburbs to the city, Bartlett is just over ten miles from downtown, putting residents close to all the things to do in Memphis. While it's existed since the early 19th century, development only began to take off in the 1970s. It provides numerous ways to stay active thanks to numerous parks, including Nesbit Park, which offers hiking and mountain biking trails just minutes from home. The town also operates the popular Bartlett Recreation Center, a more than 50,000-square-foot facility with sports courts, a fitness center with classes, and even an indoor track.
Bartlett residents have access to various shopping and dining options, most notably clustered near the Wolfchase Galleria. In addition, Bartlett is well-known for its many community events and activities, like fun runs, outdoor movies, farmers markets, holiday celebrations, and more.
Bartlett housing offers mainly single-family detached homes with a few townhouse-style communities available as well. These semi-attached units provide the most budget-friendly options in town, starting under $100,000; single-family homes in Bartlett start in the low $200,000s for three- to four-bedroom properties in both one- and two-story models. Bartlett's largest or newest homes top out in the $600,000-750,000 range.
Bartlett Amenities
Nesbit Park
Wolfchase Galleria shopping center
Bartlett Recreation Center
Quail Ridge Golf Course
Oakland
There's plenty of charm and style in Oakland, TN, for would-be buyers who'd prefer to be a bit further removed from the core of Memphis. Roughly 30 miles east of the city, Oakland is one of the smaller top suburbs on our list. Surrounded by farmland and forest, it offers the feel of a peaceful escape that still enjoys many of the conveniences of the suburbs.
Residents can just as easily reach the dining and nightlife of Beale Street as slip away into the gorgeous countryside of western and central Tennessee. All the best dinner spots in Memphis are just a short drive away. US Highway 64 forms the town's main thoroughfare, where residents will find everyday shopping and services, along with restaurants like Wyatt Earp's Steak House and El Nopal.
Oakland's single-family detached homes include everything from farmhouses on spacious countryside lots to neatly organized new construction developments. Homes for sale in Oakland typically start in the mid-$200,000s for three to four-bedroom residences. Larger, new construction properties can reach close to half a million, especially for many custom homes.
Oakland Amenities
Convenient to US Highway 64, Interstate 269
Large lots available
The Oaklands City Park
Fair Oaks Golf Club
Germantown
Germantown is one of Memphis' best-known suburbs due to its convenient location, diverse housing supply, and many parks and other local attractions. It lies at the eastern border of Memphis, south of the Wolf River, making it one of the shortest drives into the city proper. The bustling community is filled with all the amenities homeowners could ask for, from numerous shopping centers to a local hospital to a wide variety of parks.
While Memphis may be famous for its live music, Germantown residents can catch shows closer to home at the city's renowned Germantown Performing Arts Center. Meantime, Cameron Brown Park offers Wolf River access along with ample green space, sports fields, picnic areas, and trails.
Would-be Germantown buyers have their choice of many different styles and types of homes, from historic properties to new construction. Homes for sale in Germantown start in the high $200,000s but more typically sell in the $400,000-$600,000 range. Large or historic homes can approach $1 million. A few condo-style units can also be found along Germantown's western edge and Kimbrough Road; condos in Germantown generally list in the $200s.
Germantown Amenities
Cameron Brown Park
Germantown Performing Arts Center
Oaklawn Garden
Methodist LeBonheur Germantown Hospital
Germantown Crossing shopping center
Hernando, MS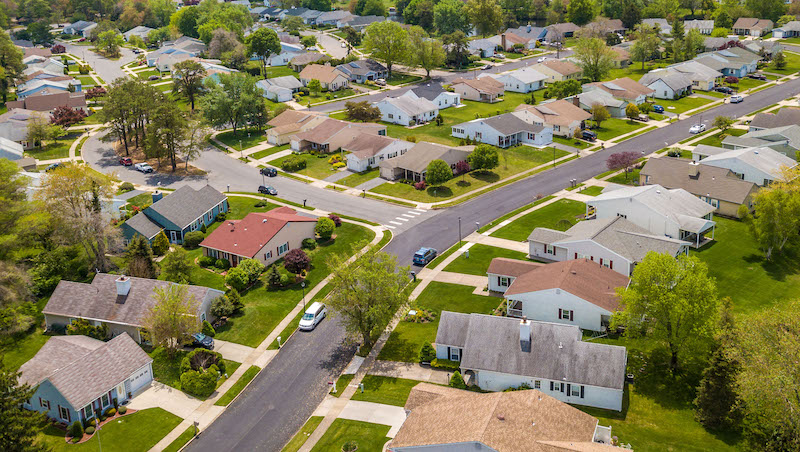 Memphis lies in the southwesternmost corner of Tennessee, allowing residents to put down roots in the Volunteer State but also south of the border in Mississippi. One of the best nearby Mississippi communities is Hernando, roughly 25 miles south of the city. It takes its name from Spanish explorer Hernando De Soto, who's credited with discovering the nearby Mississippi River. Residents can enjoy a thriving downtown centered on Commerce Street and US Highway 51 near the historic courthouse, which offers a walkable district filled with shops and restaurants like the Windy City Grille.
In addition, the town is only a few minutes from Arkabutla Lake, a beloved spot for fishing, swimming, camping, and other outdoor fun. Meantime, Memphis is a straight shot north on Interstate 55, which runs through the town.
Hernando's single-family detached homes typically include three to four bedrooms but can vary widely in size, from as little as 1,300 square feet of living space to more than 3,500. Homes for sale in Hernando list from as little as $200,000 to as high as the $700,000s. Undeveloped homesites can also be found in and around Hernando in various sizes and prices.
Hernando Amenities
Convenient to Interstates 55 & 269
Walkable downtown district
DeSoto County Museum
Edgewater Community Lake
Hernando Soccer Complex
Lee's Summit Park
Quality Suburban Living Near Memphis, TN Is For Everyone
Whether soon-to-be homebuyers are just arriving in the Memphis area or are longtime city residents looking for more space and value, there's much to love about these eight great suburbs. There are options for all types, whether they want to be close or further out, have a high or low budget, and even be in another state! These suburbs complement the affordable neighborhoods in Memphis in the provision of accessible housing options. While each has something unique to offer, it's hard to go wrong with any of these top Memphis suburbs.