Fast & Frugal Landscaping Ideas to Add Curb Appeal and Value to Your Home
Posted by John Quinn on Thursday, May 11, 2017 at 7:50 AM
By John Quinn / May 11, 2017
Comment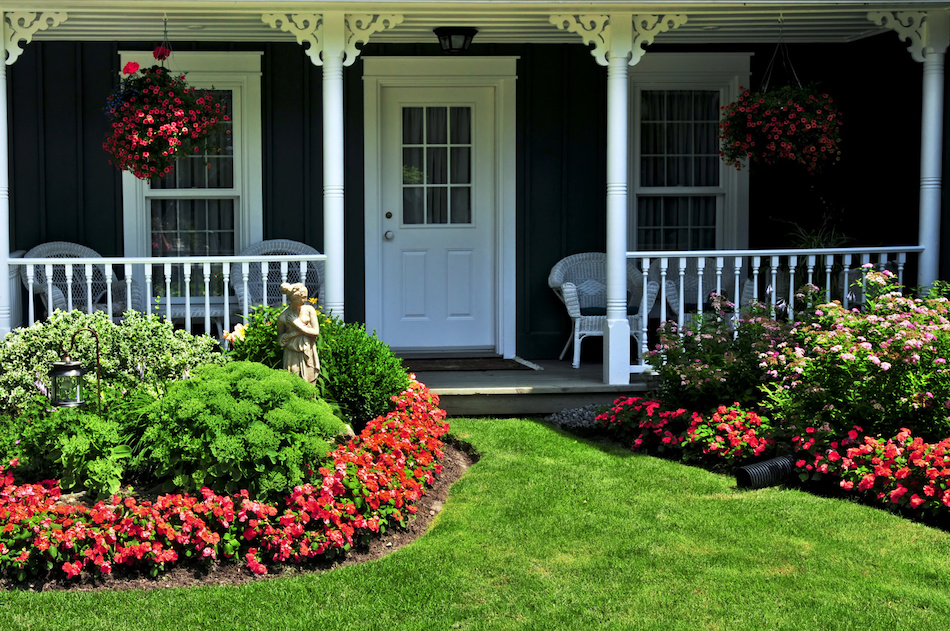 While buyers may not fall in love with a home at first glance, it is a sure bet that their first impression can have a great deal to do with whether they continue to be interested or decide to move on to another, more appealing home for sale. This is why sellers who want to get maximum buyer attention should always take their home's level of curb appeal very seriously. In some instances, sellers may find that paying for interior renovations has left them with little or no money to spend on making their home more attractive from the curb. When preparing a home for sale and looking for frugal or free ways to give it more curb appeal, try the following cost-effective tips.
Make it Tidy, then Keep it That Way
The first rule for improving curb appeal is to make sure the entire yard and exterior of the home always looks clean and tidy. A good way to do this is to go to the curb and look toward the home from the sidewalk or the street and. Make a note or snap a cell phone photo to help remember each issue and provide a record of what needs to be corrected. Be on the lookout for issues such as:
Mold on the home's siding (a simple water and vinegar solution will remove the mold and help prevent it from coming back)
Crooked shutters or loose guttering that needs to be straightened and reattached
Dirty glass or window screens that are dirty or need to be repaired
Dead branches or fallen limbs that need to be removed
Patches of weeds, holes or bare spots in the lawn, or piles of dog excrement that need to be removed or corrected
Litter or trash
Leaf litter and grass clippings along sidewalks or porches that need to be swept clean
Open garage doors that need to be closed
Trash cans that need to be picked up and stored out of sight
Curing these types of unsightly issues usually requires only sweat equity, making them very affordable even on tight budgets. Taking time to examine the home from the curb each day, and especially after storms or high wind, will help sellers address any new issues and keep the home looking tidy from the curb throughout the listing period.
Create a focal point
Another frugal way to create additional curb appeal that buyers will appreciate is to create an eye-catching focal point that can be easily seen from the curb. Focal points that add visual interest, as well as offering use value will likely be remembered and valued by buyers when they arrive to view the home. Some good, low-cost ideas for this include:
Creating a cozy outdoor living space by adding an inexpensive bench or table and chairs under a tree or in a quiet corner of the yard
Adding life to a boring area of the lawn by adding a grouping of potted flowering or green plants around an inexpensive bird bath or bird feeder
Using flat stones or inexpensive purchased patio pavers to create a small outdoor living area complete with homemade fire pit and simple seating
Adding a focal point not only adds color and appeal to a home, it can also help buyers perceive it as more valuable, should they decide to make an offer.
Direct Buyer Focus to the Entrance
Since the purpose of listing the home for sale is to get buyers to go inside, curb appeal projects should always be designed to to help do this. The best curb appeal improvements are the ones capable of drawing the buyer's interest to the home's entry and make them want to go inside. To do this effectively, sellers should first make sure that the sidewalk, steps, front door, and porch are clean, and in good repair. Additional low-cost ideas sellers can use to make buyers want to enter the home and see more include:
Painting the front door in an attractive color and making sure that the door's glass, kick plate, and hardware is clean and polished to perfection
Using attractive potted or planted greenery along the front walk to direct the buyer's eye to the front door
Making sure that mailboxes and house numbers are clean and attractive
Decorating the porch with outdoor furnishings to create inexpensive outdoor living space
Sellers who are having trouble deciding what they should do to improve their home's curb appeal should ask their listing agent to help. Their agent can help them see any issues that may exist and offer expert insight regarding what buyers like to see when arriving to view a home for sale.