What To Do in Memphis: A Local's Guide to Adventures, Shopping & Nightlife
Posted by John Quinn on Monday, October 18, 2021 at 10:50 AM
By John Quinn / October 18, 2021
Comment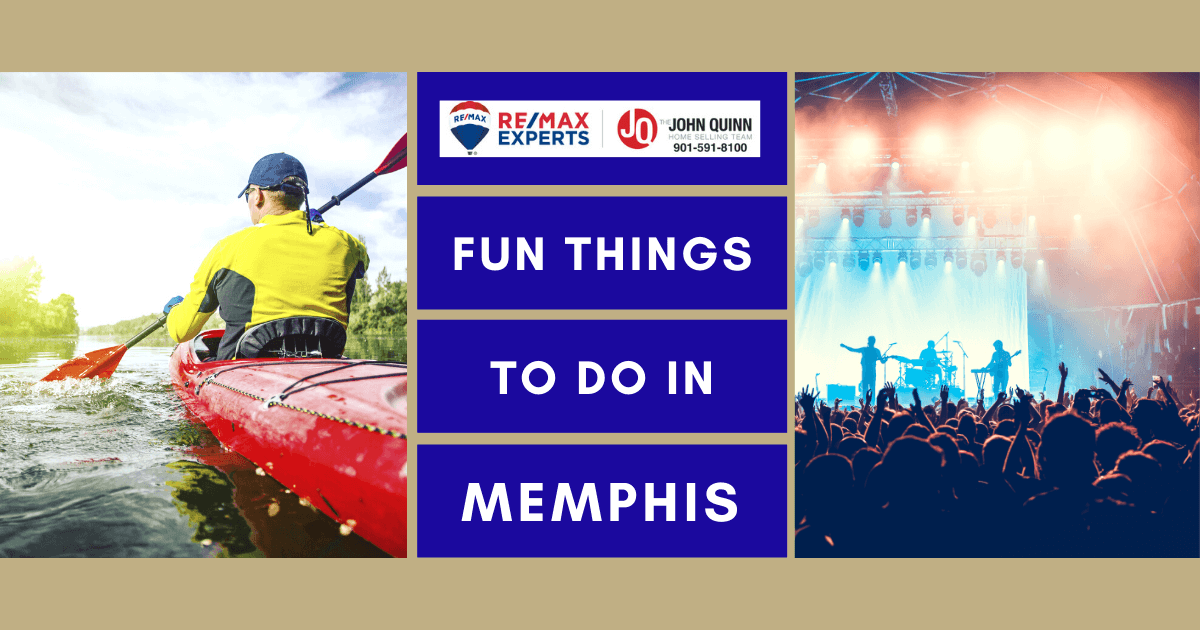 People who buy homes in Memphis enjoy a wealth of activities right outside their front doors. Fascinating museums await near Memphis condos, while hiking, biking, and other outdoor activities are easy to access from luxury homes near the city's limits. Additionally, dozens of restaurants are exciting to explore for long-time residents and people who are still thinking about moving to Memphis. And, of course, live music can be heard almost any night of the week in this Tennessee city. Keep reading and find out what to do this weekend in Memphis.
Memphis Outdoor Adventures
Memphis offers a variety of outdoor activities at every time of year. In the winter, temperatures are cool enough to be brisk and refreshing but not so cold that residents want to hide inside. In the spring, summer, and fall, seasonal weather means a welcoming environment for outdoor adventures.
Parks in Memphis
Popular Memphis Parks
Alonzo Weaver Park
Audubon Park
Mud Island Dog Park
Shelby Farms Dog Park
Memphis's Parks Divisions have been preserving green spaces for over a century. The current Memphis park system includes over 150 green spaces that include 5,600 acres of parkland.
Public parks in the area include 17 aquatic centers, two skate parks, and seven golf courses. Grill hamburgers at Alonzo Weaver Park or reserve a pavilion for a party at Audubon Park. Or, enjoy a day out with the pooch at the Mud Island or Shelby Farms Dog Parks.
Water Recreation in Memphis
Memphis Water Recreation Options
Kroc Center
Mississippi River
Paddle boarding
Kayaking
There is no better way to cool down on sunny days than with water recreation in Memphis.
The 100,000-square-foot Kroc Center has indoor and outdoor locations and an interactive outdoor splash pad for the warmer months.
Those who would prefer an urban paddle can access the Mississippi River from downtown. Vendors rent both paddleboards and kayaks.
Hiking & Biking Trails in Memphis
Popular Memphis Trails
Herb Parsons Lake Trail
Pinson Mounds
Old Forest Natural Area
Hiking, biking, and trail running can be everyday activities around Memphis. The Herb Parsons Lake Trail is an easy six-mile loop just outside the city. Pinson Mounds offers both paved and unpaved trails for hikes and bike rides through variable environments. The Old Forest Natural Area is a 142-acre preserve of old-growth trees located just 3.2 miles from downtown. This park allows leashed dogs to run on trails but off-leash in the dog park area.
No matter what kinds of outdoor activities residents and visitors enjoy, they can find plenty of opportunities for fun. Explore a different area every day to experience the area's stunning fall colors, outdoor music, fun activities on the water, and more.
Memphis Shopping
Memphis Shopping Destinations
Oak Court Mall
Broad Avenue Arts District
Midtown area
Breakaway Running
Noshings
Downtown Candle Company
Vibe & Dime
Memphis offers shopping excursions that range from quirky boutiques to sprawling malls full of well-known department stores.
The Oak Court Mall is an excellent place for fashion lovers. The East Memphis Plaza houses popular brands that include H&M, Aeropostale, Dillard, and Macy's. Wolf Chase Galleria is the largest mall in Shelby County and features over 120 stores.
In the Broad Avenue Arts District between Downtown and East Memphis, shoppers can find original art, handmade jewelry, vintage clothing and housewares, and unusual gifts.
The wealth of retail options in the Midtown area makes the Cooper-Young neighborhood real estate market popular among shoppers. Music lovers can shop for instruments or albums. Bookworms can find something new to read at Burke's Book Store. In between, recharge with live music and eclectic dining.
Homes for sale in the Overton neighborhood are within walking distance of shops and restaurants. Runners can get outfitted at Breakaway Running. Or, satisfy a sweet tooth at Noshings.
Natural candle lovers can indulge themselves with scented offerings from the Downtown Candle Company in the South Main neighborhood. At Vibe & Dime, visitors can buy housewares and instruments while supporting The Ditty Foundation.
Memphis Restaurants
Popular Memphis Restaurants
The Arcade
Garibaldi's
Blue Plate Café
Gibson's
Casablanca
Felicia Suzanne's
Central BBQ
Payne's BBQ
While Memphis is known for barbecue, the city has far more types of cuisine to offer. Sit in the Elvis booth in the Arcade, billed as Memphis's oldest restaurant. Or, pick up a slice at Garibaldi's, where a wide range of toppings can be added to hand-tossed pizzas.
Stop into the Blue Plate Café for fresh biscuits, fluffy pancakes, or huevos rancheros at breakfast time. Any time, day or night, locals can pick up a dozen doughnuts from Gibson's, an area institution since 1968.
Diners in the mood for Mediterranean or Moroccan dishes can find what they want at Casablanca. At Felicia Suzanne's southern classics like shrimp and grits, get haute cuisine reinventions.
And, of course, be sure to get some barbecue. Central BBQ is considered among the area's best. The barbecue nachos are great for sharing. Payne's BBQ offers simple plates at affordable prices. The smoked sausages and pulled pork are the stars of the menu.
Art & Culture in Memphis
Memphis is known for its contribution to rock and roll and the blues, and musical attractions are a staple of the town's many types of cultural attractions. People can find ways to enrich, entertain, and educate themselves at any time, day or night.
Museums in Memphis
Popular Memphis Museums
National Civil Rights Museum
National Ornamental Metal Museum
Children's Museum of Memphis
Memphis Rock n' Soul Museum
Memphis Brooks Museum
Memphis has a wide variety of subject-focused museums to keep visitors focused and engaged. Updated exhibits and interactive displays at the National Civil Rights Museum allow for ongoing education regarding civil rights in America. The National Ornamental Metal Museum allows visitors to see this hallmark of southern architecture up close. The on-site blacksmith shop will enable visitors to see how it is all made.
The Children's Museum of Memphis upends the usual museum rules: all the exhibits are designed to be touched in this museum.
At the Memphis Rock n' Soul Museum, visitors can enjoy exhibits that focus on gospel, the blues, soul, and other music genres.
At the Memphis Brooks Museum, visitors can see collections of fine and decorative arts from all over the world. There are extensive collections of work from French Impressionists, the Italian Renaissance, and 20th Century American art.
Art Galleries
Popular Memphis Art Galleries
Dixon Gallery & Gardens
Crosstown Concourse
Jack Robinson Gallery
Memphis is home to a thriving visual arts scene. At the Dixon Gallery & Gardens, visitors can stroll the 20-acre grounds and gardens or head inside to enjoy a rotating exhibition of American and European Impressionist paintings.
At the Crosstown Concourse, visitors can wander through a mixed-use building to view photography, textiles, video art, and more. There is a brewery and a variety of restaurants on-site to refresh.
At the Jack Robinson Gallery downtown, visitors can enjoy celebrity portraits of some of the most famous faces in America.
Dance & Theatre
Memphis Dance & Theatre Opportunities
Orpheus
Cannon Center for the Performing Arts
Hattiloo Theater
Playhouse on the Square
Beckman Performing Arts Center
TN Shakespeare Company
Every week brings new opportunities to take in music, dance, and theater in Memphis. The downtown area is home to the Orpheus, which hosts musicals and concerts, and the Cannon Center for the Performing Arts, where the local symphony and local dance companies can see.
Over by the homes for sale in the Midtown area, visitors can enjoy performances at Hattiloo Theater, one of Memphis's top performing arts venues. The Playhouse on the Square puts on shows with their resident company of professional actors year-round.
The Beckman Performing Arts Center is one of the most highly favored amenities of the East Nashville real estate market.
The TN Shakespeare Company in Germantown brings works from the Bard, along with classics from southern writers.
Take the time to enjoy everything Memphis has to offer. Between local talent and world-traveling acts, the city gives residents and visitors alike easy access to some of the best music, art, theater, and dance in the world.
Memphis Nightlife
Memphis Nightlife Destinations
Beale Street
B.B. King's
Mollie Fontaine
Peabody Hotel
Paula & Raiford's Disco
Alfred's on Beale
The Green Beetle
No matter what interests residents have, they can find some excitement in Memphis's nightlife scene. Beale Street is a storied nightlife district where partiers can find nightclubs, live music, and cocktails any night of the week. Blues fans should be sure to visit B.B. King's.
The energetic venue Mollie Fontaine has a variety of music and an eclectic crowd. At the Madison, check out the rooftop lounge for terrific cocktails and stunning views of the river.
At the historic Peabody Hotel, the lobby bar offers a passport back into mid-century elegance.
Those who are out to dance will enjoy a visit to Paula & Raiford's Disco. With its light-up dance floor and sparkling disco ball, visitors will feel like they've been transported to Saturday Night Fever.
Alfred's on Beale is a great place to catch live music on the weekends. Later at night, a DJ takes over. There is also an upstairs patio bar for when partiers need to escape the dance floor for a bit.
The Green Beetle was originally opened in 1939 and has a rumored history as a speakeasy before that. Today, visitors can enjoy large plates of lasagne, collard greens, or mashed potatoes while listening to some of the best local bands.
Weekend Fun Awaits in Memphis
Living in Memphis means never running out of new things to do or see. Whether someone is an outdoorsy type who wants to kayak on the river or hike in nearby mountains, or a city sophisticate looking for fine cuisine and cocktails, there is always something to see.
The city's offerings change throughout the year, so there is always something new to offer. Spend some time exploring the many parts of this vibrant city. Music, food, art, and an affordable cost of living in Memphis make this city a wonderful place to call home.